Individuals using EZER Delivery
How do you get larger items home when you do not have a truck? Do you rent a truck, disturb a friend, or just wait all day for the store to deliver the item? There is no need for the trouble and delays, EZER is here to help.
That day will come when you need something picked up and delivered that will not fit in your vehicle and you need it right away. Save time, the headaches and hassles by keeping the EZER App on your phone.
Drivers with EZER Delivery are fully screened, background checked and ready when you need. EZER carries $1,000,000 general liability policy to protect your items from beginning to end.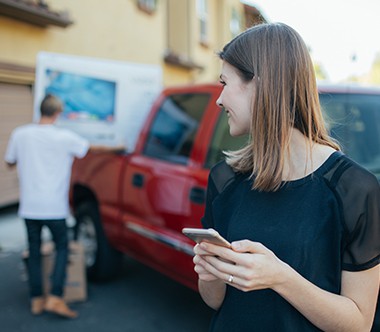 Items that will not fit into your vehicle

Larger bulky items or many items

- From Any Store

- From the Electronics Store

- From the Garden Center

- From the Hardware Store

- From the Pet Store

- From a Friend's House

- From the Flea Market or Yard Sale

- Anywhere, 7 days a week

Download the EZER App
"It's like having a truck in your pocket." ©
As easy as a few clicks, you can now get larger items or supplies picked up and delivered when you want it and where you want.
The EZER app connects you directly with drivers of pickup trucks, cargo vans and SUVs in your area. Simply enter the pick-up location, provide a description, take a picture of the item(s), key in on-demand pick up or schedule for a later date and time, set a delivery address and you are all set!
Whether you are on site or items are placed on Will-Call, EZER can pick your items up and deliver them for you. EZER's system will locate an available driver in your area and get the items going as you requested.
User Testimonials
" Easy and Convenient; A Life Saver! "
I purchased a brand new desk and printer stand for my office and had no way to get it there. The Furniture store would have charged me $300 to deliver it and I would have had to wait two weeks. I decided to try EZER,…and the same day I had a driver meet me at the furniture store. Load, deliver, and help me unload my new furniture. The driver, Rudy, was very polite, professional, and helpful. He even helped my lug my furniture up to my second floor office. EZER literally saved me two weeks of time. I will be recommending EZER to everyone I know!
Miko O.
January 18th
" Awesome, Incredibly easy "
Service was great. A trip that would have taken me a truck rental, placing a large 1980's video game in the truck, a neighbor or friend to help, a two-hour drive, only took me 2 minutes and I didn't have to do anything. The price is about the same as what I would have paid for just the truck. Thanks EZER !
Louis D.
February 3rd
" First Time "
I am a first time user and I am very impressed with your service. Your driver was polite and personable. Thank you.
Ted P.
April 13th
" Great and very easy "
As a typical millennial who doesn't like much to talk on the phone and works best with apps this was actually far easier than I initially expected. All things considered, my alternative was renting a truck from some place like Home Depot and loading the item and then returning the truck. This was easier and I got help much faster in the van. Final bonus, it was nice to contribute my money more directly to a local worker. I think the app is designed nicely to be intuitive to people who are familiar with Uber Eats, Lyft, DoorDash, etc. I was also able to tip the driver directly in the app at the end of the order. I would happily use EZER again and recommend it to people. You have a very happy customer!
Lesilyn E.
January 16th
" Needed Supplies "
Needed to get some supplies delivered to my house and I was able to get them the same day through EZER. Communication was great and I was updated throughout the process. The GPS tracking is a plus and helped a lot with the ETA. I will definitely use this again when I don't have the vehicle to get something.
Marc S.
June 13th
" Uber for your stuff! "
I used this app to deliver a few pieces of furniture. I loved the convenience! The cost was around $60 to move three pieces of furniture 20 miles away. I'll use it again!
Egbert
September 17th
"On-time and friendly"
The driver, William was quick and efficient! On time and friendly! 5 stars from us… we will definitely use EZER service again! Thank you
Tanya J.
May 19th
Tell others and share
Tell us about your experiance.
EZER Delivery is available to expand into any city, worldwide. Contact us to discuss bringing EZER to your region.